Tooth-colored fillings can repair teeth weakened by decay. These restorations are composed of high-quality composite resin, which can be shade-matched to emulate your natural enamel. Many patients elect to have old or worn amalgam fillings replaced with composite material to achieve more aesthetically pleasing results.
Understanding the Structure of Teeth
Teeth are made of several layers. The outer portion of the tooth is composed of enamel, which is considered one of the strongest tissues in the body. Enamel protects the more sensitive underlying layers, including dentin and the inner pulp chamber.
What is a Cavity?
Cavities result from tooth decay, which is caused by a buildup of plaque on the surface of teeth. The acids in plaque begin to erode the enamel, which can cause small holes to develop. These holes are known as cavities.
Who Is Susceptible to Cavities?
Both children and adults are vulnerable to cavities. The enamel of primary teeth is softer than that of adult teeth, making these teeth more susceptible to decay. In addition, deep decay can spread from baby teeth to permanent teeth growing beneath the gums.
Tooth colored fillings are made from composite resin, a special compound of ceramic and plastic that closely mimics the shade and translucency of enamel.
With age, teeth can become worn down. Daily chewing, grinding, and biting can wear away at the enamel and result in small chips or fractures. These fissures can harbor bacteria. According to the National Institute of Dental and Craniofacial Research, 92 percent of adults between the ages of 20 and 64 have at least one cavity.
Do You Have a Cavity?
In their initial stages, cavities do not often present with noticeable symptoms. If you have more advanced stages of decay, you may notice:
Visible pits or holes in teeth
Brown, black, or white spots on enamel
Pain when consuming anything hot or cold
Difficulty chewing or biting down
Sporadic or chronic tooth pain
Your dentist is able to identify and treat cavities in their earliest stages. As a result, it is incredibly important to schedule biannual checkups, so your dentist can help you maintain a healthy smile.
Treatable Cases
When decay is mild to moderate, a dental filling can generally restore the structural integrity of a tooth. More extensive cavities may require an inlay or onlay, which can repair a larger area. If decay is left unaddressed, it can penetrate the underlying layers of the tooth. When a cavity reaches the pulp, root canal therapy may be the only way to salvage the tooth and avoid extraction. A dental crown can then restore the remaining structure and function of the tooth.
Comparing Composite to Amalgam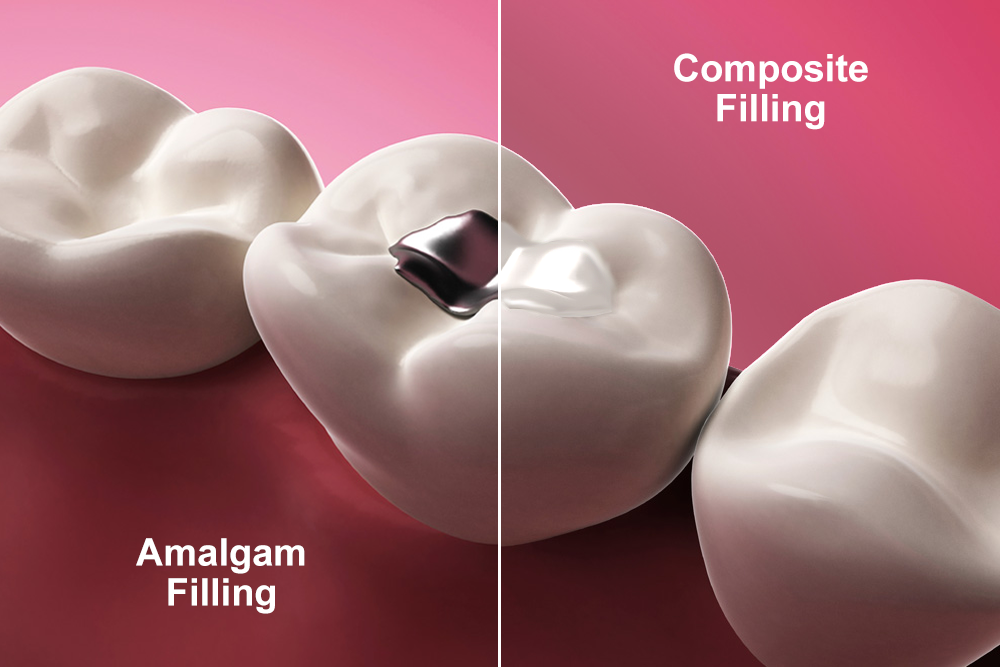 Tooth Colored Filings vs. Amalgam Fillings
Traditionally, dentists used amalgam fillings to repair compromised teeth. These restorations are comprised of a mixture of metals, including tin, silver, copper, and mercury. However, with the advent of composite resin the 1980s, tooth-colored fillings became the preferred method of treatment.
Tooth colored fillings are made from composite resin, a special compound of ceramic and plastic that closely mimics the shade and translucency of enamel. These restorations provide more realistic results and offer the added benefit of stability. Unlike amalgam, which contracts and expands with temperature fluctuations, composite resin consistently maintains its shape. It also requires less enamel removal, so you can preserve the structural integrity of your smile.
Steps Included with Tooth Colored Fillings
Dental fillings can be often be placed on the same day as your examination. To determine the extent of decay, your dentist can take x-rays of your teeth. These images will be used to plan treatment. Typically, you can expect:
Anesthesia: Before treatment begins, a local anesthetic will be administered to numb the tooth and surrounding tissue. Patients who suffer from dental anxiety may benefit from stronger forms of sedation.
Tooth preparation: Once you are comfortable, the dentist can remove unhealthy bacteria and damaged tissue.
Composite resin application: The dentist can carefully mix the composite resin material to ensure it blends seamlessly with the color of your tooth. The dentist can then apply the material in layers for maximum strength and shine a special curing light to harden the resin in place. Application requires a delicate technique and a keen eye for detail.
Tooth reshaping and polishing: Once the composite resin is hardened, the dentist will check for proper occlusion. Any excess resin will be trimmed and the tooth polished to reveal your new and improved smile.
With proper care, composite resin fillings can last for several years.