Root Canal
When decay reaches the pulp (inner tissue) of a tooth, infection and a host of painful symptoms can result, eventually causing tooth loss.
A root canal is the complete removal of the pulp. This relieves pain, eliminates infection, and preserves the exterior tooth structure.
But a root canal is painful, right?
A Root Canal Is Virtually Painless,
Prevents Tooth Loss, and Protects Your Oral Health.
Gentle Techniques. Comfortable Treatment.
A root canal is no more uncomfortable than receiving a filling, thanks to local anesthesia and modern techniques. Meanwhile, it can stop the considerable pain of a tooth infection.
Root canal therapy eliminates the need for extraction.
By removing infected tissue, the healthy exterior can continue to contribute to chewing and other functions. The remaining tooth structure is usually restored with a crown.
Prompt treatment helps you avoid serious oral health issues.
A dental infection can affect surrounding teeth and gum tissue. It can also cause deterioration of the jawbone.
Root Canals Are Not Painful
Contact a dentist immediately if you are experiencing:
A toothache
Sudden sensitivity to heat and cold
Swelling in your gums or face
Swollen lymph nodes
A sudden but persistent bad taste in your mouth
With prompt attention, an infected tooth can often be saved with a root canal.
The only alternative is tooth extraction, which would be excessive in many cases. Meanwhile, extraction alone will eventually result in bone atrophy at the extraction site. This can be prevented with a solution such as a dental implant, but this treatment is far costlier and more complex than a root canal.
Deciding If a Tooth Can Be Saved
Healthy Outer Tissue
In order for a root canal to be successful, the outer tissue (enamel and dentin) must be able to at least support a crown. Too much decay or structural damage (such as a crack that extends below the gums) usually makes extraction the better choice.
Wisdom Teeth
To put it simply, you don't need your wisdom teeth. In fact, due to their hard-to-brush location and tendency to
erupt in ways that harm the jaw and surrounding teeth
, dentists often recommend extracting them before they fully develop.
If it is time to do something about an infected wisdom tooth, your dentist will probably recommend extraction
.
Most Side Effects Only Last a Few Days
When the anesthetic wears off, there may be some tenderness at the treatment site for up to a few days. Your jaw may also feel sore due to keeping your mouth open for a long period during treatment. In many cases, over-the-counter meds can keep this discomfort under control.
Improved Comfort, Health, and Appearance
Once the short recovery period is over, your smile will be healthier and more comfortable than before. Thanks to modern restorative techniques, your tooth will look healthy and natural. If you receive a dental crown as part of your root canal treatment, you can expect it to last at least five to 15 years with proper care.
Maintaining your oral health after a root canal is easy – just continue to brush twice a day, floss daily, and visit your dentist every six months.
It Depends
on Many Variables
On average, a root canal procedure costs $762 to $1,111 per tooth.
However, the exact amount will vary depending on which tooth needs treatment and a number of other factors.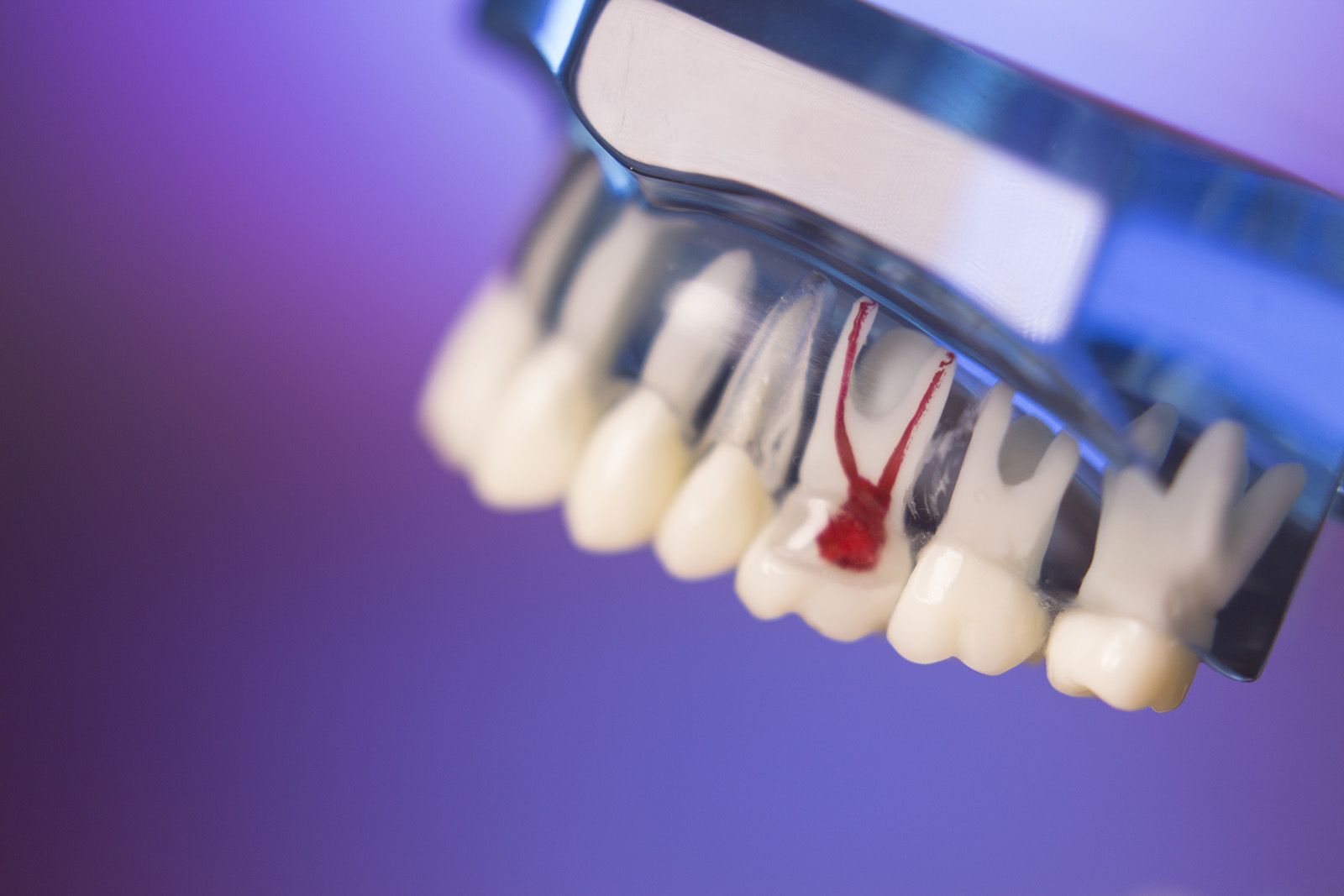 Type of Tooth,
Preparation, and Restoration
Number of Roots
Front teeth cost less to treat because they have only one root, while a molar can have as many as three. More roots equal more treatment, which will result in a higher cost.
X-rays and Anesthesia
Your dentist will first need to assess your tooth with an x-ray, which carries an additional cost. Immediately before the procedure, your dentist will provide local anesthesia. If you choose to receive sedation as well, you can expect to pay more.
Follow-up Care
After the procedure, you will need to visit the dentist for follow-up appointments. You will also likely need a dental crown to repair and protect the tooth, although a dental filling may be sufficient in certain cases.
If you are experiencing any symptoms of a tooth infection, it is time to meet with a dentist. Remember also that in some cases, the condition presents no obvious signs. Attending regular six-month checkups can reveal dental infection regardless of symptoms. Whether you are experiencing pain or simply need to establish ongoing dental care, you have everything to gain by scheduling an appointment with a dentist today.