Living with multiple missing teeth can cause discomfort, interfere with chewing and speaking, and make you feel self-conscious.
At Porter Dental Group in Charlotte, NC, we provide traditional and implant-supported dentures to fully rebuild your smile.
So why should you invest in this trusted dentistry treatment?
Eat, Speak, and Smile
with Confidence Again
Turn Back the Clock
Our dentists, Charles A. Porter III, DDS, and Robert E. Porter, DDS, use only the highest-quality dental materials to craft custom appliances for our patients. We can carefully design your restoration to complement your facial features, improving the appearance of puckered lips and sunken cheeks for a more youthful look.
Restore Your Quality of Life
Losing natural teeth can cause daily annoyances. Our dentists can restore your oral function, allowing you to speak clearly and eat comfortably. With a newly rebuilt smile, many of our patients find new enjoyment in life.
Benefit From Implants
Our dentists also offer dentures supported by dental implants at our Charlotte dental practice. Implants are titanium posts which, once placed, can keep your dental appliance securely in place and prevent jawbone recession.
Missing teeth can interfere with every aspect of your daily life.
If you are ready to restore your smile and your quality of life, contact our practice online or call us at:
Drs. Charles and Robert Porter have been providing comfortable, affordable dental care to patients in Charlotte, NC, for over 25 years. They have undergone extensive training to stay up-to-date on the latest techniques and technology available in dentistry. In addition, Dr. Charles Porter studied with Dr. Michael E. Pruett for additional training in dental implant placement.
CareCredit® financing and in-house plans are available to help cover out-of-pocket costs.
Dentures can address more than missing natural teeth...
Dentures Are More Versatile Than Ever
Full, Partial, and Implant-Supported Dentures
Partial Dentures
If you still have some healthy teeth but need a solution for gaps that are making eating difficult, our skilled dentists at Porter Dental Group in Charlotte, NC, can design a partial denture that completes your smile.
Partial dentures are held in place by clips that attach to a nearby tooth. We carefully color-match these replacement teeth so that people will notice your smile, not the denture.
We'll also take precise dental impressions of your mouth to ensure your denture is comfortable and has the most secure fit possible.
Traditional Denture
A traditional, full denture is the solution if you are missing most of your teeth or have widespread decay throughout your mouth. Traditional dentures have been used for generations, but don't mistake today's dentures for those of years past.
Porter Dental Group uses advanced technology to ensure a secure fit and we take advantage of today's lighter, more natural-looking dental materials to create dentures that are better than ever.
Full dentures simply rest on your gums and are held in place by natural suction and, if desired, adhesives. Many patients at our practice appreciate that they can get their dentures in as little as two weeks.
Implant-Supported Denture
Implant-supported dentures are the closest thing to having your natural teeth back. They are attached to dental implants, which are small titanium posts that are surgically placed in your jawbone. You will never have to worry about these dentures embarrassing you by slipping out of place.
While patients love the beautiful, secure smile they get with implant-supported dentures, there's an unseen benefit that is perhaps even more important. Dental implants stimulate bone growth in your jaw, helping it maintain its original shape.
While implant-supported dentures cost more and take more time, many of our patients believe the health and lifestyle benefits they get in return are well worth the investment.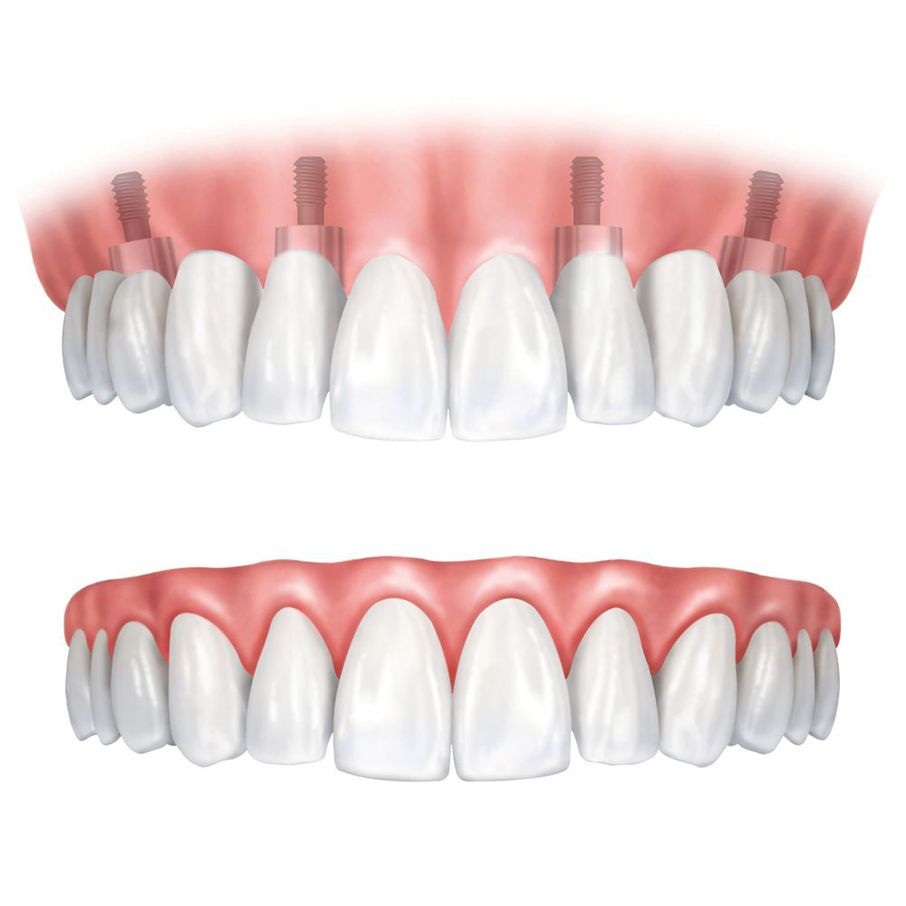 The Additional Benefits
of Opting for Implants
While conventional partial dentures, or partials, and complete dentures are an affordable option for widespread tooth loss, these restorations cannot address the jawbone atrophy associated with tooth loss. Once teeth are lost, the tissue in your jaw begins to deteriorate. Over time, this issue can affect the stability of any remaining teeth and change the shape of your face.
Fortunately, Dr. Charles Porter has trained extensively in restorative dentistry and the placement of dental implants. An implant-supported denture from a well-trained dentist can replace missing teeth and prevent further tooth loss, allowing you to enjoy improved oral health for years to come.
Overwhelmed by All Your Choices?
Call For a Consultation
Don't let all the choices you have when it comes to dentures overwhelm you. After examining your smile, Drs. Charles A. Porter III and Robert E. Porter can fully explain the best options for you and answer all your questions.
While dentures are a big step for many people, dentures can also transform your life for the better. The ability to smile freely and enjoy a wider variety of foods and a healthier diet is priceless.
Call today for a consultation with the dentists at Porter Dental Group in Charlotte. Leave a message online or call for a consultation:
"Dr. Porter is a wonderful dentist. I have been going to him for the last 8 years. Dr. Porter and his staff have always explained all procedures or courses of treatment, so I know what needs to be done... I also like that they start at 7:00 am and I have come many times before work. The staff is always very friendly."

Jim W.
We use advanced technology to enhance your results...
Digital X-Rays and 3D Imaging
to Plan Your Treatment
Our dentists work to keep our Charlotte practice up-to-date with the latest dental technologies so you can benefit from optimal results. For example, digital X-rays produce more accurate images with a much lower level of radiation.
In addition, our doctors are trained in 3D imaging which can create a panoramic visualization of your gum tissue, jaws, remaining teeth, and all the supporting structures. This dentistry system allows us to pinpoint the ideal location for dental implants if you opt for an implant-supported restoration.
Are You Concerned About Denture Costs?
Patients are understandably concerned about costs and we will gladly provide patients with a personalized quote after their consultation at our Charlotte practice. In addition, our knowledgeable team can help determine what your insurance will cover. If you don't have insurance or have large out-of-pocket costs, we also offer flexible financing with CareCredit®. This third-party healthcare financing company lets you split your payment into budget-friendly monthly amounts so you can get dentures now instead of waiting.
What steps are involved in receiving dentures?
Your Treatment Timeline Depends on Whether Implants Are Involved
Traditional partial dentures and removable dentures typically require only two visits to our office. However, patients who desire the enhanced stability of implants will require additional appointments and procedures. Our dentists can give you a personalized treatment timeline during a consultation at our practice.
By using a local Charlotte lab, we ensure your hand-finished denture meets our high standards for quality.
It can take a few weeks to get used to new dentures...
Your dentures may feel odd for the first few weeks and you may notice extra saliva in your mouth. As you adjust, this issue should go away. Patients with traditional complete dentures may also notice some irritation or soreness. Your cheeks and tongue will learn to keep your restoration in place within a few weeks.
While you adapt, you should:
Eat soft foods
Cut your food into small pieces
Be cautious with hot or hard foods
You may need to practice speaking or other common functions until you become more comfortable with the device.
"Most wonderful people in the world. Dr Porter and his staff are amazing. Nicest group you'll ever meet. Highest recommendation!"

Dean Padgett
Taking good care of your denture can increase its longevity...
We Can Help You
Learn to Care for Dentures
Proper care and hygiene are important for the health of both your dentures and your smile.
To keep your denture clean and safe, you should:
Never place it in hot water
Brush and rinse the appliance daily
Refrain from using toothpaste on dentures
Use a soft-bristled brush for cleaning
Keep the device moist
Use a specially designed cleaner
Our team can provide recommendations on the best products and techniques for at-home care.
"Would Recommend Them to Anyone"
Great service, professional demeanor, and front desk staff are so helpful. We recently switched to Porter and are so happy we did. Would recommend them to anyone.
View on Google
A fabulous Professional technologically current dentist. Excellent care and will be returning for follow up care.
View on Google