Temporary dental crowns protect modified teeth while permanent crowns are being crafted. They can safeguard you from dental sensitivity, tooth decay, and shifting teeth during treatment. Temporaries are typically composed of either stainless steel or acrylic and are made to last only a few weeks, whereas permanent crowns are designed to last 10 years or more. These restorations are bonded in place using provisional dental cement, which is easier to remove during a follow-up appointment.
The Structure of a Temporary Crown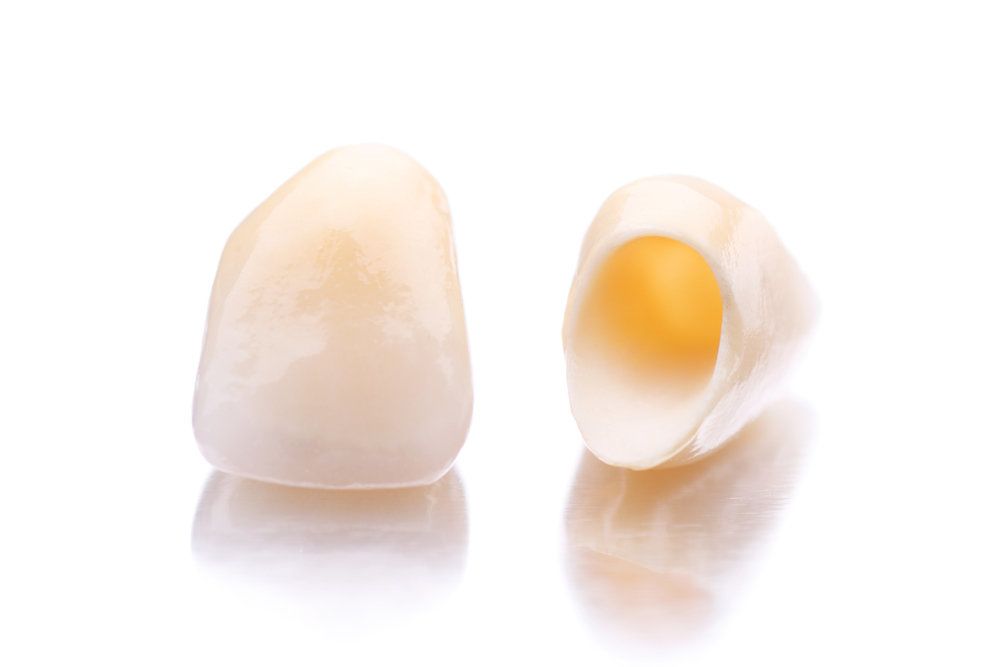 Temporary crowns not only serve to ensure your comfort, but also make daily functions like eating and speaking easier.
When Are Temporary Dental Crowns Needed?
When a tooth is severely damaged, a dental crown can restore its strength and integrity. However, to accommodate a dental crown, the existing tooth must be reshaped. This process can leave nerves exposed and cause significant sensitivity. Dental crowns are typically crafted at a special laboratory, and the turnaround time is approximately two weeks. While the permanent crown is being manufactured, a temporary crown is used to protect the tooth and prevent discomfort.
Temporary dental crowns are also used during other dental treatments, including:
Root canal therapy: This procedure involves removing compromised tissue and reshaping the inner chambers. The tooth is then filled with a rubber-like material called gutta percha. A crown is typically placed to fortify the tooth after treatment. While the crown is being crafted, a temporary may be used.

Dental bridges

: A dental bridge can fill the gap left by tooth loss. This restoration features artificial teeth flanked by two dental crowns. As such, the teeth on either side of the gap (abutment teeth) are reshaped to make room for each crown. While the bridge is being manufactured, temporary crowns may be placed to protect the abutment teeth.

Dental implants

: Missing teeth can leave gaps in your smile and make chewing difficult. While you wait for your permanent crowns, temporary crowns can be affixed to the implant posts.
Temporary crowns not only serve to ensure your comfort, but also make daily functions like eating and speaking easier.
The Treatment Process
After removing any compromised tissue, the dentist will file the tooth to make room for the crown. The dentist will then take an impression of the tooth using either putty or digital software, which will be used by the laboratory to fabricate your custom restoration. While you await your final crown, your dentist can place a temporary crown. These can be easily manufactured in the dentist's office. Using provisional cement, the dentist can secure the crown in place. They can then check your bite for proper occlusion and make any necessary adjustments. At your follow-up appointment, the dentist can remove the temporary crown and place the permanent restoration.
Caring for Your Temporary Crown
You should practice routine dental hygiene while wearing your temporary crown. Make sure to brush your teeth gently around the crown and use mouthwash as directed. When flossing, do not pull the floss directly upward but instead pull it to the side to slide it out. You should not eat for the first 30 minutes after a crown is placed to avoid disrupting the setting process. You should also refrain from eating very sticky foods, as this could pull the crown off the tooth.
What to Do If the Temporary Crown Falls Off
It is not uncommon for temporary dental crowns to loosen or fall out before the permanent crown is placed. If this happens to you, call your dentist as soon as possible to schedule a visit. Should you be unable to see the dentist immediately, you may apply personal denture cement and fix the crown back in place. It is important to reapply the crown in a timely manner, as teeth can shift and make placing the permanent crown difficult.
How Much Do Temporary Dental Crowns Cost?
The cost of a temporary dental crown is usually included in the overall cost of your treatment. However, expenses may vary depending on the type of procedure performed and materials used. Other contributing factors may include the office location, the dentist's experience, the number of crowns placed, and the preparation required. Many dental practices offer in-house payment plans or accept third party financing to make treatment more affordable.