Fully Customized Single-visit Dental Crowns
---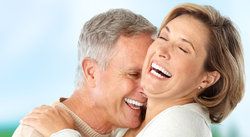 When teeth are lost, become damaged, or are in need of cosmetic enhancement, porcelain restorations can restore strength and integrity to your smile. Dr. Charles Porter offers dental crowns and bridges at our Charlotte office. These prosthetics can be used to to meet a variety of restorative and cosmetic needs. Crowns fully encapsulate a tooth while bridges replace one or more missing teeth. With our advanced in-office technology, we can usually create and place fully customized bridges and crowns in a single visit. Contact us to book a consultation today.
What is a Dental Crown?
Crowns can improve the appearance of a tooth that has been chipped, cracked, worn down, or has a naturally irregular shape. Dr. Porter may also use a crown to strengthen a damaged tooth, or protect a tooth that has undergone a root canal.
Before Dr. Porter places a dental crown, he will numb your tooth and the surrounding area. We offer several sedation options, including local anesthesia, oral conscious sedation, and nitrous oxide gas to minimize any discomfort. Once the anesthetic has taken effect, Dr. Porter will carefully treat your tooth. Next, a digital impression of your tooth will be taken, which will allow our team or a dental laboratory to fabricate a dental crown that looks virtually identical to your natural teeth. Once your crown is completed, the dentist will attach it using a specialized dental cement.
What is a Dental Bridge?
Bridges (also called partial dentures) literally bridge the space left by missing teeth, and can be supported by crowns or dental implants. If you choose a traditional bridge, Dr. Porter will place abutment crowns on the two teeth flanking the gap in your smile. The new bridge will be secured by the abutment crowns. Crown-supported bridges can be removable or permanent. To receive an implant-supported bridge, Dr. Porter will place one or two biocompatible posts in your jawbone, which will act as natural tooth roots that anchor the bridge.
Dr. Porter also offers Prettau® Zirconia bridges, which result in beautiful, highly aesthetic results. However, the particular material he will use is determined on a case-by-case basis, based entirely on your individual needs. He can discuss your treatment options during your consultation.
Same-day Crowns Made with CEREC® Technology
Dr. Porter proudly uses the latest dental technology for your comfort and convenience. CEREC® is a digital imaging system that uses video images to gather precise data on the shape and structure of your teeth and gums. This information is used to generate a 3-D model of your mouth. Dr. Porter uses this model to create ceramic restorations that will blend naturally with your existing teeth.
CEREC® technology allows us to provide same-day crowns, eliminating the need for temporary crowns and return visits to our office. CEREC® can actually create a wide range of restorations, including crowns, bridges, and even porcelain veneers.
Schedule a Consultation
If you need crowns or bridgework, you deserve to be treated by a dentist who truly cares about you and combines compassion and expertise with the latest technology. Contact Dr. Porter today to schedule a consultation.